Pacific Ponds & Design at a glance

Pond Construction Experts – Pond Builders for Residential and Commercial Pond Construction
1983
After coming out of the military I needed a job so I worked with a friend's dad who was a contractor. After a few years working on building custom homes I decided to try being a
contractor myself.
1987
I got my general contractors license and started working as a handyman calling myself
"Hal the Handyman"
1990
Expanded the contracting business to specialize in condo and apartment building repairs. At that point I started to get so busy that I had to hire a few extra guys to work with me…..
90's
Late 90's I had taken custody of my 6 year old son and I needed more of a family environment so I relocated to Santa Clarita. The new housing market was in full swing so to take advantage of this, I changed my company name to Santa Clarita Landscape Construction and focused on designing and building back yards. I would go in and design the yard for the customer, which included everything from patio covers, bbq's, custom stone/masonry work, low voltage lighting and of course custom ponds and waterfalls. This is where I first really began to enjoy working with rocks, water and living creatures… Not knowing yet that my future wife and owner of
Sunland Water Gardens
would be the perfect match for my desires to work in the pond industry…
Since our marriage in 2002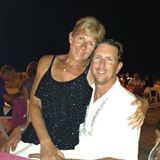 I have been actively involved in the pond industry. I wanted to know everything about ponds from the professionals so I worked very closely with Sunland Water Gardens. I was first introduced to ponds by working on a crew performing pond maintenance. I would go to a customer's home and clean the pond, check to make certain the pond filter was operating properly, condition the water to remove any chemicals and add beneficial bacteria to keep the pond balanced.. Over time, I advanced to cleaning out ponds, replaced pond pumps, troubleshoot pond leaks and just about anything else a pond could have wrong with it.
And Pacific Ponds and Design is born…
Whether it be a Koi pond, water garden or fountain you can feel confident that I have the experience and resources to build any size or shape pond your desire. My hope is to continue in the family tradition of providing pond "Service", to help each pond owner one at a time. To help find just the right pond design, just the right pond filter, just the right pump or anything else you and your family are dreaming of. I really enjoy finding just the right combination to make your pond building project just perfect. I believe that things happen for a reason and when I met my wife not knowing she was in the pond industry, I am certain it was meant to be, because I really do enjoy working with customers on designing their ponds and then making their ponds come to life.
Pacific Ponds & Pond Design…
Yes we can do that too…
1
Pond Construction
Pacific Ponds & Design understands how important it is when choosing the right pond builders. Not just the right pond builders, but expert pond builders that get it right first! When it comes to pond building we know how to get it right the first time. When choosing Pacific Ponds & Design, you will know and trust that we have a good working knowledge of not only pond construction but also understand how a pond works.
2
Pond Maintenance Company
Pacific Ponds & Design has been Sunland Water Garden's Pond Maintenance company/partner for over 4 years now, which makes us uniquely qualified in understanding what is best for any and every pond situation.
3
Your Pond Building Expert
Pacific Ponds & Design is your pond expert and well versed in all forms of Pond Care and pond installation including but not limited to getting you're the right pond equipment…
Pond pumps

Pond filters

Skimmers

Water clarifiers

U.V. lights

Low voltage lights (in and out of ponds)

[/one_third]
Tab 1 content…
Tab 2 content…
Tab 3 content…
content