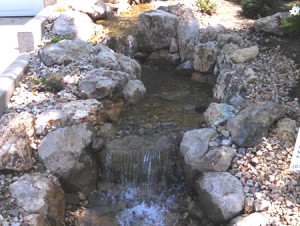 Building a Stream Bed
Building a stream bed
One of our customers had a narrow area in her front yard that she wanted to turn into a stream bed. No pond,  just a stream bed. She liked the idea of providing an area for all the woodland critters that wandered into her yard a place to enjoy a drink of water but still be safe for the neighborhood kids. After all it is in her front yard.
First, we planned together and marked out the area. This is the best way to see in real life the size and shape. Many times a customer has an idea and when they see it – well it may need to be bigger or smaller.
Secondly, we dug out it all out including a deep area for the water storage. Remember even if you are making a pondless waterfall or stream bed there is a pond that holds all the water and the pump. It is just covered safely with rocks. But it is still there.
Thirdly,  in goes the pond liner ( we like the firestone EPDM 45 mil pond liner) It is important to cover the entire pond and waterfall or stream area with one liner. This will minimize leakage. When you use a couple of smaller liners it is very easy to miss a fold or a rock can move and you will have a leak.
Then comes the fun – all the rocks are installed to make a gentle fall of water from top to bottom. At the end will be your pond area with your pump installed in the bottom.  We use egg crate or plastic boxes to hold the rock up off of the pump. Fill the pit with rocks and you have the base of your stream bed.
You can add pond plants like cattails or pickeral rush to name a few bog plants that will give your stream bed a more natural look.
This couple was very happy to see the deer and other friends coming on a regular basis to enjoy the cool water. They also enjoy the beautiful water feature and wonderful sound of water flowing in their front yard.

Pacific Ponds and Design is not only your commercial pond builder and custom pond construction company and partner. We are also a full service commercial and residential pond maintenance company servicing all of Los Angeles County, Ventura County and offering expert pond care. From office building ponds to home ponds, we have you covered…  We are your Pond maintenance company in Los Angeles learn more at https://pacificponds.com … Get your questions answered today about Pond Building, Pond Maintenance or choosing the right pond design today at 818-400-0286

Pacific Ponds and Design your pond maintenance company… your pond builder and partner…
---
Pond Design Ideas: Building a Stream Bed
Source: Pacific Ponds & Design
Author: Hal Rodman
Also See: Pond Building; Residential Pond Construction; Backyard Ponds
Filed Under: Pond Contractors / pond builder / Residential Pond Construction
---
Pacific Ponds & Design – Your Pond Builder!
Pond Construction Contractors – Expert Pond Builders!
Licensed and Bonded Contractors 
Contact the pond building experts today at

 818-400-0286.
Yes We Offer Pond 

Construction

 There Too!
Pond Building / Pond Maintenance
Areas we serve and more:
Agoura Hills

Altadena

Arcadia

Bel Air

Beverly hills

Calabasas

Canoga Park

Century City

Chatsworth

Encino

Glendale
Granada hills

Hollywood Hills

Hollywood

La canada

La Crescenta

Los Angeles

Malibu

Montrose

North Hollywood

Pasadena

Porter Ranch
Reseda

San Fernando Valley

San Fernando

San Marino

Santa Clarita

Santa Monica

Sherman Oaks

Simi Valley

South Pasadena

Studio City

Sun Valley
Sunland

Sylmar

Thousand Oaks

Toluca Lake

Torrance

Ventura

West Hollywood

West Los Angeles

Westlake Village

Woodland Hills

Pond Construction / Pond Builders
Pacific Ponds: Building a Stream Bed
Pond Contractors / pond builder / Residential Pond Construction
---
Follow us on Google+:
https://plus.google.com/+pacificponds/about
Follow Us On FaceBook:
https://pacificponds.com/facebook-pacific-ponds/
Follow us on Twitter:
https://pacificponds.com/twitter-pacific-ponds/