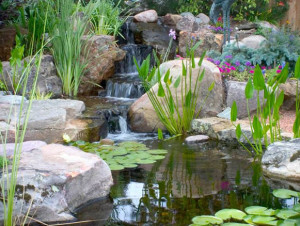 Pond Maintenance Jobs To Keep your pond healthy
Everyone wants to keep their pond happy and healthy. Here are a few pond maintenance tips that you can ensure that you are a successful water gardener.
Pond Filtration
Whether you have a pond with just filter pads or a pond with media as filtration, it is very important to keep these items clean. How often you will clean these items will depend on the size of the pond, the amount of debris that falls into the pond and the amount/size of your fish and plants. As a general rule, I always recommend that the filter pads get cleaned at least every other week as well as with the media filtration.
Pond Cleanings
There are two types of pond cleanings performed. A partial cleaning and a full cleaning. When a partial is done, this usually involves removing all filter pads in the skimmer and pick up, lava rock and any nets or baskets are removed and everything gets cleaned very well. If there are not filter pads but a media filtration system, the filtration system will get a good backwashing. The pond gets restarted, dechlorinator and pond bacteria is then added to the pond.
A full cleaning involves removing all fish and plants, draining the pond down to the bottom and the pond and stream/waterfall get a complete powerwashing. All filter pads get cleaned or media filtration gets backwashed. All of the pond lights get checked and repaired as needed, all plants get fertilized, the pond gets refilled, dechlorinator and pond bacteria is then added to the pond and then the fish and plants are
reintroduced back into the pond.
Uv Lighting
Ultraviolent lighting is used primarily to kill off algae spores in the pond which causes green water. If you already have a Uv light system, you are then probably familiar with how to tell if it is working or not. The most notable way to detect if your system is working, is that you will notice an obvious change in the clarity of the water. If this does occur, it will be necessary to remove the bulb and replace it with another one. Another way to tell if the bulb is working, you can look into the casing holding the bulb at night time and you should see a nice blue glow. If not your bulb will need replacing. It is recommended to replace it every 6-12 months even if the light is on as it will not be working and the highest level beyond that time frame.
Pond Fish
The way you take care of your pond will also be reflected onto your fish. Providing your fish with the right diet of food and using the proper pond products, such as dechlorinator and pond bacteria will lead to healthier fish.
Pond Plants
It is very easy for pond plants to get out of control in a pond environment. More often than not most pond plants tend to grow out of their containers and make them more difficult to manage. That is why it is necessary to remove the plants on a seasonal basis and cut the plants back or put them into larger containers. It is also necessary to fertilize the plants on a regular basis
---

Pacific Ponds and Design is not only your commercial pond builder and custom pond construction company and partner. We are also a full service commercial and residential pond maintenance company servicing all of Los Angeles and offering expert pond care. From office building ponds to home ponds, we have you covered…  We are your Pond maintenance company in Los Angeles learn more at https://pacificponds.com … Get your questions answered today about Pond Building, Pond Maintenance or choosing the right pond design today at 818-400-0286

Pacific Ponds and Design your 

pond 

maintenance

 company… your pond builder and partner.

..
---
Pond Maintenance Tips: Pond Maintenance Jobs To Keep your pond healthy
Source: Pacific Ponds & Design
Author: Hal Rodman
Also See: Pond Building; Residential Pond Construction; Backyard Ponds
Filed Under: Pond Maintenance / Pond Maintenance Tips
Pacific Ponds and Design
Pond Contractors / Pond Installation / Pond 
maintenance
9944 Sunland Blvd
Sunland
, 
CA 
91040
(818) 400-0286
---
Pacific Ponds & Design – Your Pond Builder!
Pond Construction Contractors – Expert Pond Builders!
Licensed and Bonded Contractors 
Contact the pond building experts today at

 818-400-0286.
Yes We Offer Pond 

Maintenance

 There Too!
Pond Building / Pond Maintenance
Areas we serve and more:
Agoura Hills

Altadena

Arcadia

Bel Air

Beverly hills

Calabasas

Canoga Park

Century City

Chatsworth

Encino

Glendale
Granada hills

Hollywood Hills

Hollywood

La canada

La Crescenta

Los Angeles

Malibu

Montrose

North Hollywood

Pasadena

Porter Ranch
Reseda

San Fernando Valley

San Fernando

San Marino

Santa Clarita

Santa Monica

Sherman Oaks

Simi Valley

South Pasadena

Studio City

Sun Valley
Sunland

Sylmar

Thousand Oaks

Toluca Lake

Torrance

Ventura

West Hollywood

West Los Angeles

Westlake Village

Woodland Hills
---

Pond Maintenance / Pond Maintenance Tips
Pond Maintenance: Pond Maintenance Jobs To Keep your pond healthy
---
From Santa Clarita and all of Los Angeles County areas and most of Ventura County we can provide pond maintenance, learn more at https://pacificponds.com
Pacific Ponds and Design
Pond Contractors / Commercial Pond Construction / Commercial Pond Construction (Garden fountains)
26893 Bouquet Canyon Rd #C-227 
Santa Clarita
, 
CA 
91350 
(661) 510-8138
Pond Maintenance / Pond Maintenance Tips