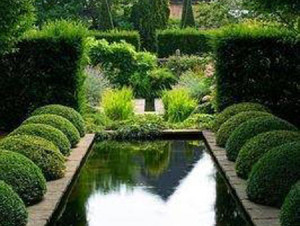 What size pond liner do I need to build my Koi pond?
What size pond liner do I need to build my Koi pond?
We have come across many common mistakes that the do-it-yourselfers make when building their own pond.
One of the most common is to start with the wrong sized pond liner. The rules for Koi ponds are a bit different from a water garden or simple fish ponds. If a Koi pond is your desire, then most builders will agree that deep straight sides is what you want. This will inhabit wildlife from entering and eating your Koi.
In some ways this is the easiest pond construction. Especially if you do not wish to have a waterfall. Many Koi ponds have exterior filtration and just "dump" water back into the pond.
How to measure for a Koi pond liner
Measure the width and length – example  15' x 20'  Then measure the maximum depth- example 3'.
So 15' (width) plus 3' (depth going down the side) plus 3' (depth coming up the side)
15' plus 3' plus 3'= 21' of liner BUT WAIT…  you want your rocks on the sides to look like they are in the water not just sitting on a liner right? If you have rocks that are about 12-18" (average) then add that times two to cover the rocks on each side of your pond. You want to be able to fold the liner up around the back of the rock so you can add water above the bottom of the rock without it leaking out.
So again start with 21' plus 1 ½' plus another 1 ½' =24' width  yeah! You have one measurement!
Then do the same with the length- 20' plus 3' plus 3'= 26'   26' plus 1 ½' plus 1 ½' = 29'.
So you will need a 24' x 29' liner to make this Koi pond.
This will make a Koi pond 15 x 20 pond.
If you need help to determine what size liner you need for your Koi Pond we can help with that.
---

Pacific Ponds and Design is not only your commercial pond builder and custom pond construction company and partner. We are also a full service commercial and residential pond maintenance company servicing all of Los Angeles and offering expert pond care. From office building ponds to home ponds, we have you covered…  We are your Pond maintenance company in Los Angeles learn more at https://pacificponds.com … Get your questions answered today about Pond Building, Pond Maintenance or choosing the right pond design today at 818-400-0286

Pacific Ponds and Design your pond maintenance company… your pond builder and partner…
---
Pond Maintenance Tips: What size pond liner do I need to build my Koi pond?
Source: Pacific Ponds & Design
Author: Hal Rodman
Also See: Pond Building; Residential Pond Construction; Backyard Ponds
Filed Under: Pond Maintenance / Pond Maintenance Tips
Pacific Ponds and Design
Pond Contractors / Pond Installation / Pond 
maintenance
9944 Sunland Blvd
Sunland
, 
CA 
91040
(818) 400-0286
---
Pacific Ponds & Design – Your Pond Builder!
Pond Construction Contractors – Expert Pond Builders!
Licensed and Bonded Contractors 
Contact the pond building experts today at

 818-400-0286.
Yes We Offer Pond 

Maintenance

 There Too!
Pond Building / Pond Maintenance
Areas we serve and more:
Agoura Hills

Altadena

Arcadia

Bel Air

Beverly hills

Calabasas

Canoga Park

Century City

Chatsworth

Encino

Glendale
Granada hills

Hollywood Hills

Hollywood

La canada

La Crescenta

Los Angeles

Malibu

Montrose

North Hollywood

Pasadena

Porter Ranch
Reseda

San Fernando Valley

San Fernando

San Marino

Santa Clarita

Santa Monica

Sherman Oaks

Simi Valley

South Pasadena

Studio City

Sun Valley
Sunland

Sylmar

Thousand Oaks

Toluca Lake

Torrance

Ventura

West Hollywood

West Los Angeles

Westlake Village

Woodland Hills
---

Pond Maintenance / Pond Maintenance Tips
Pond Building: What size pond liner do I need to build my Koi pond?
---
From Santa Clarita and all of Los Angeles County areas and most of Ventura County we can provide pond maintenance, learn more at https://pacificponds.com
Pacific Ponds and Design
Pond Contractors / Commercial Pond Construction / Commercial Pond Construction (Garden fountains)
26893 Bouquet Canyon Rd #C-227 
Santa Clarita
, 
CA 
91350 
(818) 400-0286
Pond Maintenance / Pond Maintenance Tips