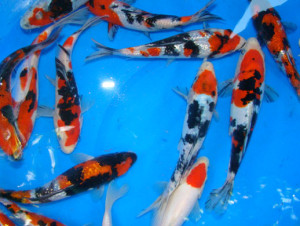 Pond care: 10 Tips for Buying Healthy Fish
Pond care
10 Tips for Buying Healthy Fish
Part of pond maintenance is to make good choices for your pond. Fish, plants, pump/filters and anything else you use in your pond needs to be items you trust, from trusted retail or pond maintenance experts.
When purchasing new Koi or other fish from your pond dealer, there are certain things that you should look for and ask about to make sure that you are receiving healthy fish. Here are a few Tips for buying healthy fish for your pond or water garden.
Sick Fish – Look to see if any of the fish are hanging out alone, with clamped fins. This is a good sign that the fish is sick.
Cleanliness – Is the tank clean or do you see old food and debris on the bottom. Does the tank have good circulation and filtration?
Dead Fish – If you see any dead fish floating in the tanks – even just one – stay away. This can be an indication of a poorly maintained, diseased tank.
Quarantine – Does the retailer quarantine their fish and for how long? It is very important that all fish are quarantined for at least 14 to 21 days for salt treatments to ensure the fish are not carriers of disease or parasites. This goes for you too. If possible it is a good idea to quarantine any fish you purchase as well.
Water Testing and Changes– Find out how often the water is tested and changed. Testing the water monitors ammonia and pH levels, as well as nitrites and nitrates indicating when the water should be changed. It is recommended to do a partial water change once a week in most cases.
Parasites – Ask if new fish are tested for the presence of parasites with a microscope. Doing so indicates whether the fish are carriers of parasites and can be treated accordingly before they are sold.
Net Sharing – It is recommended that different nets be used for each tank to limit the possibility of spreading disease from one tank to the next.
Clear Skin – Look for fish with no marks, missing scales, sores, or broken or missing fins. Any of these are signs of a bacterial infection or parasite.
Sizes – You need to take the size of the fish into consideration so you don't overstock your pond. Remember, 1″ for every square foot of surface water or five gallons.
Knowledgeable Staff – You want to purchase fish from a knowledgeable and honest merchant that can help educate you about your pond and pond wildlife. Buying all your fish and critters from one trusted source helps to insure your pond will have happy and healthy fish. It is hard to isolate problems if you go from one dealer to another.
Learn more about koi and other pond fish at: http://sunlandwatergardens.com/pond-fish/
---

Pacific Ponds and Design is not only your commercial pond builder and custom pond construction company and partner. We are also a full service commercial and residential pond maintenance company servicing all of Los Angeles and offering expert pond care. From office building ponds to home ponds, we have you covered…  We are your Pond maintenance company in Los Angeles learn more at https://pacificponds.com … Get your questions answered today about Pond Building, Pond Maintenance or choosing the right pond design today at 818-400-0286

Pacific Ponds and Design your 

pond 

maintenance

 company… your pond builder and partner.

..
---
Pond Maintenance Tips / Pond care: Pond care: 10 Tips for Buying Healthy Fish
Source: Pacific Ponds & Design
Author: Hal Rodman
Also See: Pond Building; Residential Pond Construction; Backyard Ponds
Filed Under: Pond Maintenance / Pond Maintenance Tips / Pond Care
https://pacificponds.com

Pacific Ponds and Design
Pond Contractors / Pond Installation / Pond 
maintenance
9944 Sunland Blvd
Sunland
, 
CA 
91040
(818) 400-0286
---
Pacific Ponds & Design – Your Pond Builder!
Pond Construction Contractors – Expert Pond Builders!
Licensed and Bonded Contractors 
Contact the pond building experts today at

 818-400-0286.
Yes We Offer Pond 

Maintenance

 There Too!
Pond Care / Pond Maintenance
Areas we serve and more:
Agoura Hills

Altadena

Arcadia

Bel Air

Beverly hills

Calabasas

Canoga Park

Century City

Chatsworth

Encino

Glendale
Granada hills

Hollywood Hills

Hollywood

La canada

La Crescenta

Los Angeles

Malibu

Montrose

North Hollywood

Pasadena

Porter Ranch
Reseda

San Fernando Valley

San Fernando

San Marino

Santa Clarita

Santa Monica

Sherman Oaks

Simi Valley

South Pasadena

Studio City

Sun Valley
Sunland

Sylmar

Thousand Oaks

Toluca Lake

Torrance

Ventura

West Hollywood

West Los Angeles

Westlake Village

Woodland Hills
---

Pond Maintenance / Pond Maintenance Tips
Pond Maintenance:
Pond care: 10 Tips for Buying Healthy Fish
---
From Santa Clarita and all of Los Angeles County areas and most of Ventura County we can provide pond maintenance, learn more at https://pacificponds.com
Pacific Ponds and Design
Pond Maintenance / Pond Maintenance Tips / Pond Care
26893 Bouquet Canyon Rd #C-227 
Santa Clarita
, 
CA 
91350 
(661) 510-8138
Pond Maintenance / Pond Maintenance Tips / Pond Care